Another week has whizzed by in the blink of an eye and there is a mixed bag of things to tell you about in this week's blog.
Wildlife Pond
This beautiful image is from the little hidden gem at the back of our school – our wildlife pond.  Mrs Hutchinson successfully bid for some community funding, and work has started to revitalise the area.  As the project progresses we will update with some more pictures.  We are hoping to use this area for some outdoor learning in the summer.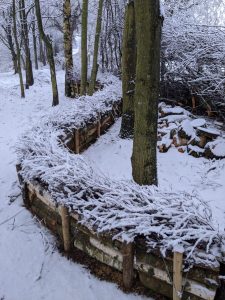 Music Competition
During lockdown and through the power of social media, the world seems to have gone absolutely mad over 'sea shanties'.  "The Wellerman" recently went viral and earned the performer, Nathan Evans a record deal.
Read the story here if it's somehow passed you by: Story Here
Mrs Skilbeck, the face and voice of music at Boroughbridge High school has set up the following competition:
Record your own version over half term to win a prize from the Music Department – you can use Tiktok to layer up over the original (like Andrew Lloyd Webber!) or make a brand-new version using any recording app or platform.  Stick to the original style or create a fusion version – be creative!
If you don't use Tiktok, then 'acapella' is a free app that lets you layer up parts. There are loads of others, or just record a video or audio mp3 or m4a.
Upload them to Google drive, and/or send in the links to your versions by Friday 26th February to sskilbeck@boroughbridgehigh.com
Parents/Carers' survey
Thanks to everybody who has already completed the parents/carers' online survey about remote learning.  I will keep the link which was sent on ParentMail open until Friday 19th and feedback the results via the weekly remote news video.
 Some Sad News
Mr Wragg, our previous Head of Science sadly passed away.  Although only here for a couple of years, he was an outstanding teacher who made a real difference to the young people at this school.
Thank you all so much for support and kind words of encouragement over the 6 weeks.  Have a great half term.  Hopefully we will have some concrete information about the date for returning to school and the government's plan for centre assessed grades for GCSE, A-Level and BTEC qualifications. Announcements are due on 22nd February so we will update you as soon as we know anything.
Take care and stay safe.
Rob Grierson
Deputy Headteacher