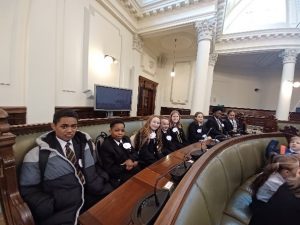 Representing Boroughbridge High School, a group of 9 of our service students went to North Yorkshire County Hall with Mrs. Murphy to take part in 'The Big Conversation' on Wednesday. The aim was to come up with North Yorkshire's own armed forces promises directly from the students who took part in rap, art and discussion workshops.  They also had the opportunity to voice their opinion on community, education and wellbeing, as well as give suggestions of areas that could be improved. This is the first time that this particular event has taken place so it was great for us to be able to participate.
Catching up with sporting news, Mr. Field reports that 'Last Monday saw some Year 7 and Year 8 athletes represent Boroughbridge High School in our first ever venture into Sports Hall Athletics.  Richmond High School hosted the indoor athletics event which saw our athletes compete in various relay races using equipment such as; reversa-boards, high steppers, hurdles and speed bounce, along with field events such as; indoor shot, standing long jump, vertical jump, speed bounce and standing triple jump.  Both Year 7 and Year 8 had already had a taster for Sporthall Athletics so we were able to select those pupils who had shown interest and ability across this wide spectrum of athletic events.  Both year groups performed exceptionally well against the opposition schools and gave absolutely everything in the pursuit of sporting glory.  Both the boys and girls teams from Year 8 finished in a respectable 4th place whilst the Year 7 teams encountered a little more success.  The Year 7 girls team finished in 3rd place, receiving bronze medals for their efforts and the Year 7 boys team finished in 2nd place taking home silver medals.  All the pupils thoroughly enjoyed the afternoon competing and the Year 7 teams are already looking forward to improving on their results in next year's competition.' Well done to all.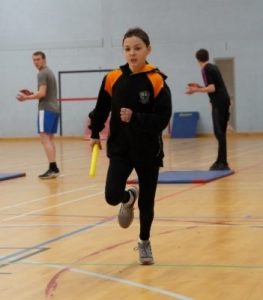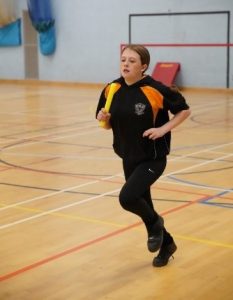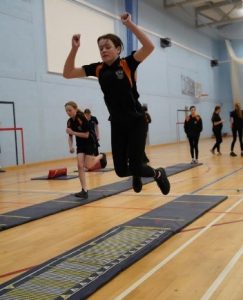 As part of our Reading for Pleasure strategy, Year 7 and Year 8 students were presented with their book of choice as part of the BookTrust Bookbuzz scheme. Students were also encouraged to set a target of the number of books they can read as part of a Readathon which they'll be participating in.
In assemblies this week, Mrs. Godsell-Wright has been encouraging students to think of others at this time with a view to supporting people within our local community. Opportunities over the next couple of weeks will include Christmas card writing to send to local care homes, bringing in donations of tinned or food in packets to send to our local foodbanks, or baking cakes to bring in for a Bake Sale next Friday (15th December). Any donations you can make will be gratefully received.
If our choir singing at the late night shopping event on Wednesday has whetted your appetite for all things Christmas, then you'll pleased to hear that preparations are going well for our Christmas Concert which is at 6p.m. on Tuesday 12th December. Along with musical performances, there'll be a Drama element as Mr. Jackson and Mr. West have joined forces to create a special evening. We'll look forward to seeing you there. Christmas attire is optional!
We're also having a pre-loved uniform swap and sale in the Reception area on Tuesday evening which you can visit when you're at the Christmas concert so if you've any uniform that no longer fits then please bring it along. Alternatively, you can drop off uniform donations at Reception at any time or contact schooladmin@boroughbridgehigh.com if you would like to know what we currently have in stock.
Next week, students can look forward to their Christmas dinner on Wednesday lunchtime and I've no doubt that a few party hats will make it into afternoon lessons.
A reminder that we finish for the Christmas break at 1.30p.m. on Friday 22nd December.
Have a lovely weekend!