And so there's been another first for Boroughbridge High School this week as we've proved that we can cope with a heatwave! The relaxed uniform has certainly helped and everyone has worked together to keep our school community safe. Thank you for your support with this.
With the Summer holiday almost upon us, Mrs. Godsell-Wright has focused on safety in assemblies this week, following on from the information shared with students earlier in the term and during PSHCE lessons. In particular the focus was on Safety around Water. You can find out more at
https://rnli.org/safety/know-the-risks/cold-water-shock
https://rnli.org/video-player/D98BB773-9556-4A0D-8AA8D2790D512E64
Online safety was also addressed with students being given top tips about how to ensure they stay safe when using social media.
 Year 8 assembly this week also included a presentation from Mrs. Bauwens to the winners of the Geography in a Box competition. As the name implies, students had to create a model (in a box) of something geographical that interested them. Entries included volcanoes, geysers, 3D- maps, waterfalls, meanders, landslides and a water cycle to name but a few. The quality was so high that it was impossible to have an overall winner so the winning three were George, Neve and Annabelle with runners up Freya, Beth, Will and Joe. Congratulations to all!
This morning, for the first time since December 2019, we've had a whole school assembly, bringing together all staff and students to celebrate the achievements of the 2021-2022 academic year. The event began with live music and then, following our usua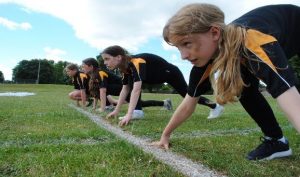 l photo celebration, students were presented with certificates from Departments to recognise the good progress that they've made and how they have demonstrated an excellent attitude towards the subject or to extra-curricular life. Sporting awards followed and then came the moment that we've been waiting for since our superb Sports Day last Friday – the big reveal of the winners. Here they are, 8SF, 9LJ, 10JF and 11CL. The finale was a whole school rendition of YMCA! All in all, an excellent way to end the Summer Term.
Today we said farewell to Mr. Inglis (Science), Mrs Johnson (Maths), Mrs. Langford (Pastoral Manager and History/English teacher), Mrs. Price (Maths) and Dr. Roberts (Science). We thank them for the massive contribution that they've made to Boroughbridge High School and wish them well for the future.
With thanks to you for your support throughout the year, all of the Boroughbridge High School staff team wish you and your families a very happy Summer break!