With football fixtures back on the calendar, the Year 9 team had an impressive 9-2 victory against Caedmon College, Whitby on Tuesday and have progressed to the next round of the England FA Small Schools' Cup. Goal scorers were Jack (6), Isaac (2) and Lucas (1). Following them on Thursday were the Year 11 team (some of whom were runners up of the competition in 2019) who scored 4-0 against St. Aidan's in Darlington. Goal scorers were Harry, Jack, Matt and Will. We'll look forward to matches in the weeks ahead.
GCSE Geographers were out on fieldwork on Monday and Tuesday investigating the urban area of Leeds. They visited four locations around the city studying the quality of housing and looking at how different areas have been improved. The weather held for most of the day, despite the forecast but, as Mrs Bauwens says, 'it wouldn't be a geography fieldtrip without a little rain!'
Assemblies this week, led by Mrs Town, have focused on the difference that each individual can make and the leadership opportunities available to students at Boroughbridge High School. Students in Year 11 can apply to become prefects whilst students across the school can put themselves forward to be Form Representatives on the School Council. We're looking forward to getting the new student leadership team together.
Following our success in the Festival of Friends' Service Pupils' Project last term, we've now received our winners' trophy along with the publication of our article in the official booklet outlining the projects that have taken place across North Yorkshire and the City of York.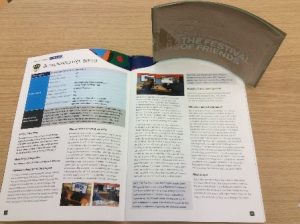 The languages team wished everyone Bonne chance/ buena suerte/ buona fortuna / manuia as they took on the Languages Escape Room Challenge to celebrate the European Day of Languages on 26th September. If you'd like to try it yourself, you can find it at https://view.genial.ly/5f527c1d1f2e6d0d7df4780b
We've also had our first virtual Parents' Evening this week for Year 9 with others to follow. Thank you for the feedback on the Google Form that we've already received. It's not too late to complete it.
And just before I finish, we thought you might like to see the Year 8's Animal Passport pieces using marks as tone which Mrs Bibbings was particularly pleased with and you can see why.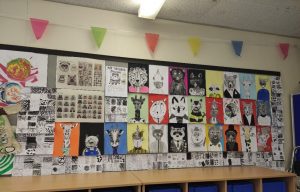 Have a lovely weekend!