As we break up for our half term holiday, it's a very appropriate moment to celebrate a very successful start to the academic year and to thank you for your support in making it so.
It was great to welcome Year 7 parents to our Meet the Tutor evening on Tuesday, particularly as families were not able to attend an Open Evening last year, due to the pandemic. Conversations were positive and demonstrated the excellent start that Year 7 have made to their secondary education.
A reminder that you can view the curriculum maps for all subjects for all year groups at
https://www.boroughbridgehigh.com/curriculum/
Assemblies this week have been led by the NHS Wellbeing in Mind team, outlining how they're going to be working alongside school staff with this exciting project where education and NHS healthcare work together for the benefit of our young people. They shared an Anna Freud video which I'm sure resonated with many of our young people exploring the fact that we all have mental health and 'it's ok to be not ok'. You can view it at
https://m.youtube.com/watch?v=DxIDKZHW3-E
Now that students have completed their questionnaires, we'll be looking at how we can work together to support our community.
The Young Writers' Empowered Poetry competition has recognised that the last eighteen months have been hard for students with remote learning and periods of isolation. The competition invites students to find and use their voice to express themselves through poetry. Our Key Stage 3 entries have been sent away and we'll let you know how we get on.
Showing their creativity in an alternative way, our Year 9 Artists have been working individually and in pairs to recreate some iconic Tim Burton characters bringing a little spookiness to the Art and Design department.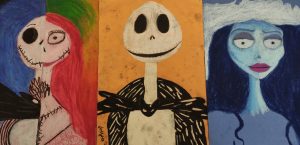 Have a lovely half term break!