Have you ever wondered exactly how cheese is made? If you asked Mrs Simmonds' Year 9 class they'd be able to tell you, with some students also saying it had put them off eating it for life although, having been on duty in the Dining Hall, I'd suggest otherwise! In another element of Technology; Design Technology, they were trying their hand at 1 and 2 point perspective with Mrs Flowers. Meanwhile, in Maths, with Mrs Price, they've been finishing working on all things averages including tables and data comparisons before moving on to their favourite topic of algebra, starting with manipulation and solving. Across KS3, in RS with Mr Woodward, students have been exploring Aristotle's moral theory of Virtue Ethics, this week honing in on the way in which role models can be used to help an individual develop their own moral character.
In DT, Year 8 have been making the difficult decision of what their lights might be for and for whom, whilst with Mr Errington, in Science, they've been revising for their food and digestion test. In Geography with Mrs Bauwens, Year 8 are continuing to focus on China as an emerging superpower.  This week there have been some lively discussions around China's population issues including the positives and negatives of the controversial one child policy. In Art, with Mrs Bibbings, having already done some beautiful illuminated letters and typography, Year 8 have a new Graphic Design project based on the bold style of American artist, Robert Indiana.
Year 7 computer scientists, with Mrs Knock, have been exploring inside a computer to find out about the hardware components such as RAM and CPU and looking at what software is, whilst in DT they've been working out how to use a net to help them make a card version of the blockheads. In Maths, with Mrs Cummins, they've been gearing up for their first progress test to demonstrate all of the fantastic methods they've learnt in their first Number topic along with developing their mental and written calculation skills including time and money. In Art they'll be starting their new topic next week, Portraiture and Expressive Typography, using the work of Julian Opie as inspiration. With Mrs Wilson in RE, they've been learning about the scientific explanations of how our universe and life began; exploring the Big Bang and Evolution. In Science, students have been identifying the different organs of the body. The week started very well in Science when Dr Lefley quite literally had students 'conkering' Forces. You can see for yourselves.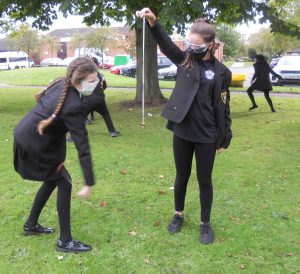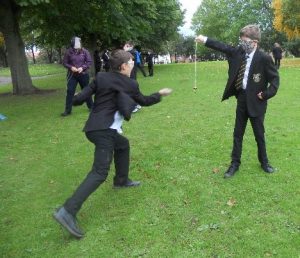 As we're not able to have our usual extravaganza of an Open Evening next week, students and staff across the school, along with some of our alumni, have been putting together videos and resources to show people how great it is to be part of the Boroughbridge High School team and inviting them to join our school. If you know someone with a child in Year 6 you could share your experience with them. All of the Virtual Open Evening resources will be available to view on the website on Wednesday 14th October.
Have a lovely weekend!