You may remember that we had a Summer reading competition where students were invited to take a photo of themselves or a family member 'in the act of reading (and loving it)'! Last week, in Year 8 assembly, the winners were announced. Showing an impressive level of creativity, here they are with Emily in 1st place, Millie in 2nd place and Theo and Lola in 3rd place.  Well done to them all.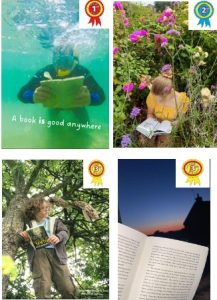 Our Sports Leaders have been in action again this week, leading a Football Festival for children from local primary schools.
In assemblies this week, Mrs. Godsell-Wright has been reinforcing the importance of safeguarding, reminding students of possible risks, how it's important to report to members of staff and how we all have a responsibility to act in a way which ensures that everyone within our school community is safe, happy and successful.
As you're aware, in response to our Ofsted inspection, at the beginning of term we introduced expectations for each aspect of learning in lessons; whole class work, group/pair work and individual work. This is already having a significant impact on the quality of questioning and student response in lessons along with creating the opportunities for students to develop their ideas and thinking. This has been one of the focus areas of lessons observations that have taken place across the school over the last couple of weeks as part of our Quality Assurance Cycle. Along with this focus on Climate for Learning, we've also been looking at Behaviour for Learning and have welcomed staff from our federated partner, King James's School to carry out a behaviour review with us this week. We're looking forward to a reciprocal visit in the coming weeks. I'll be sending out a letter soon to update you on our progress.
Thank you to the parents and carers who have responded to the google survey with kind offers of support for the school. There's still time to complete the form here and you can now complete it without a google account.
Have a lovely weekend!