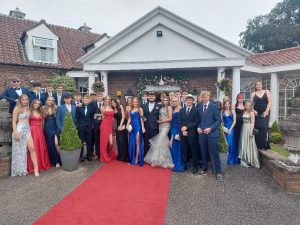 Oh what a night! As you can see, the Year 11 Prom last Friday was a great success. With sparkles and smart suits, the evening gave staff and students alike the opportunity to celebrate. Students arrived in tractors, a pick up, tractor units, a caravan, a Mustang and a Lamborghini. After a lovely three course meal, everyone danced the night away. Our students, as ever, were polite, considerate, thankful and happy which was great to see. Our thanks go to Mrs. Godsell-Wright for organising the event and to The Bridge Inn for making it a special evening.
This week has marked the start of our 2023 – 2024 timetable with students quickly becoming familiar with new classes and, at times, new teachers. The focus of assemblies this week has therefore been on reinforcing our school standards with our collective responsibility to act in a way which ensures that all are safe, happy and successful. In particular, we explored how students maximise learning when they Arrive on time, Be prepared, Contribute, Develop thinking and Engage with learning.
I was delighted to receive some new artwork for my office produced by Freya, Annabel, Kiki and Oliver,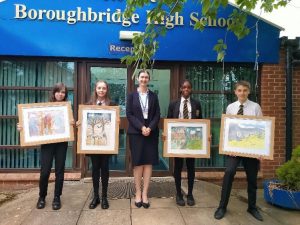 four of our Year 9 students. This impressive dystopian art was inspired by SweetTooth and their own English work.
Last night the Summer Sounds concert became a lovely Open Mic night where parents, carers and students were treated to a range of performances including piano, guitar, flute, drums, vocalists and the school choir. Well done to all.
We have another exciting week ahead as we welcome our new Year 7 students for their Induction Days from Wednesday to Friday.
Have a lovely weekend!