Combining two areas that are important to us as a school, to mark World Mental Health day on Tuesday, students were invited to Drop Everything and Read as their teachers selected and shared a piece of writing that was important to them in supporting positive mental health and wellbeing. Mrs. Macadam read the opening pages of Du Maurier's 'Rebecca', a book given to her as a gift from her first teacher trainee. He had handwritten the Rudyard Kipling poem 'If' on the inside page. She also read this to her Year 11 class, sharing a poignant note he'd added saying 'never doubt yourself' which was very fitting for the occasion.  Meanwhile, over in PE, Mrs Godsell-Wright and her Year 7 group sat in the changing room whilst she read the 10 benefits of exercise for mental health before they talked and asked questions about it. In the Pastoral area, Mrs. Broadhurst read some of the poems from her 'Poems of positivity' book whilst also looking through the mindfulness cards which turned into, she said, 'a really lovely session'. To support this, the NHS Wellbeing in Mind team were based in the library with a selection of strategies and books to share with students.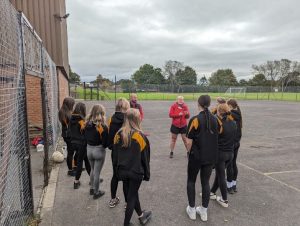 On Wednesday morning, our Sports Leaders were involved in a Year 5/6 netball tournament hosted at Boroughbridge High School. You can see them here in their preparation session. They were involved in coaching and umpiring. It was an excellent tournament so much so that both of the Sporting Influence teachers who organise the events took the time to e-mail saying, 'the young leaders this morning were amazing ambassadors for the school! They were friendly, helpful and welcoming to all the schools. The tournament was fabulous.' and 'The feedback from the schools has been really positive. They [BHS students] showed real maturity and confidence throughout the morning.' We're really proud of what this team of young people are achieving in developing their leadership skills and also recognise that, by working with students in Years 5 and 6, they are also helping with the transition of the next generation of Boroughbridge High School students.
This certainly set the tone for arguably the most exciting night on our school calendar – Open Evening. With preparations complete, more than 100 students across the year groups came back into school to welcome Year 5 and Year 6 students and their families. During the presentation in the Hall we shared our vision, values and commitment to ensure that everyone in our school community is safe, happy and successful. Then Year 7 students, Annabelle, Ava, Darcy, Jake, Matty, Phoebe and Thomas spoke with confidence and enthusiasm about their positive experiences of joining Boroughbridge High School. Families were then able to tour the school, visiting every department, speaking with many members of staff and students whilst also engaging in a wide variety of curriculum activities. In English, they joined the English Team at 'Darkwood Manor' for some creative writing inspiration, watched a rehearsal by the Key Stage 3 Drama Club and saw our Musicians in session. In Computing students could discover what was inside a computer and in Chemistry and Physics bubbles were being ignited whilst in Biology hearts were being dissected. Sports Leaders led challenges in the Sports Hall. Following a food theme, Halloween breads were being made and sampled in Food Technology whilst French vocabulary puzzles were completed with Modern Foreign Languages. There was also the opportunity to sample some of the school menu in the Library – the pasta pots were a hit! In RE philosophical questions were being asked, houses were located in Geography whilst bugs were sampled in the Bug Cafe and, in History, there were costumes galore and the opportunity to sample historical recipes. Artists engaged in clay work could be observed and colourful plastic coasters and blockheads were made in DT. Students demonstrated how the Intervention Room and its resources are supporting them with their learning and in enjoying being in school whilst the Pastoral Team outlined the impressive support that they give to students. And throughout, students were engaged in a challenging Maths trail. All in all, it was a fantastic, energising evening and it was lovely to be able to welcome new families along with those who have or have had older children in the school. We'll look forward to welcoming Year 6 back into school for our three Induction Days in July!
With no time to recover, the first group of geographers set off on their GCSE fieldtrip to Hornsea on Thursday morning. The weather was amazing, the geographers were motivated and a really valuable day of data collection, discussion and analysis took place. Such was the pace, that the group were able to sample the local delicacy of fish and chips as part of their experience. The second group are there today and, whilst the weather has been less kind, we're hoping that they'll have had a similarly productive and enjoyable experience.
With the first progress review point (tracking) almost upon us, assemblies this week have focused on our assessment systems and the progress flightpath that students take from Year 7 to Year 11. It was also an excellent opportunity to revisit our expectations around Behaviour for Learning, Attitude to Learning and Homework.
Coming up next week is the Year 7 Form Tutor Evening on Monday (16th October). Appointments have been made online and we look forward to seeing you then.
Have a lovely weekend!