Uniform standards are our current focus as you'll see from the letter sent to parents and carers today. We're really proud of our uniform and now that students are fully settled back in school, it seems like the right time to focus on each of our standards in turn. Interestingly, looking back in time it appears that our distinctive uniform with our badge representing the town and local area, was not always black. As you'll know if you attended Boroughbridge High School yourself, when the school opened in September 1981, the uniform was maroon with the badge looking a little different, as displayed at Reception.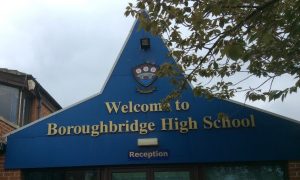 Our current uniform was introduced in September 2007 at the end of the school's 25th Anniversary. The maroon jumper was replaced with our black blazer and gold and black striped tie with an updated badge.
You may have noticed from the dates that we're approaching a very important school year with the 2021-2022 academic year being our 40th Anniversary. We're already planning how we can celebrate with the local community when hopefully Covid restrictions will be a thing of the past. Further information will follow in the coming months.
In September 1981 when the school opened, the local paper reported that Boroughbridge High School aimed to 'build up a reputation as a family affair'. It's comforting to think that almost forty years later, in very different times, some things remain the same.
Have a lovely weekend!