Introducing our Head and Deputy Head students who were elected by students and staff at the end of the Autumn Term. They have a really pivotal role in our school working with the Student Council and the Staff Team to effect change for the benefit of all at Boroughbridge High School. They have big plans of what they'd like to achieve and have already started to have an impact. Read on to find out more.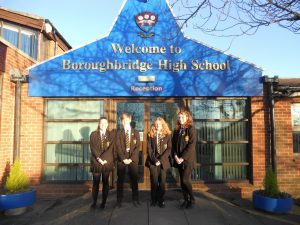 From left to right, Phoebe, Carli, Emilia and Izzy
Hey, I'm Carli, and I am proud to represent Boroughbridge High School as one of the Head Students. In this role I would like to promote equality amongst my peers, particularly by organizing an LGBTQ+ day, fundraising for a local trans youth charity. As a member of the LGBTQ family it is important to me to promote equality, providing a safe space in our school for people to be who they are. I am also looking to collaborate with other Head Students and Prefects to help boost their own ideas to help better the school. More than anything I would just like to be a role model to other students at the school, being someone others can look up to and talk to.
Hi, I'm Emilia and I am one of our Head students at Boroughbridge High School. It's really important to me that every student here feels included, safe, and like their ideas and opinions are being heard. This is why I am looking forward to using my position to improve the school environment and to work with the prefects, head students and student council for the changes we would like to see within our school. One of my ideas for this year is to find a way to offer support to younger students on things such as how to revise; I also hope to open up an indoor space for GCSE students to revise.
Hi, my name is Izzy, and I'm Deputy Head student at Boroughbridge High School. Having recently moved to the UK from overseas, I bring world and cultural knowledge to our student team, as well as resilience and determination. I'm a keen musician and artist and I value any experiences that make me a more rounded young adult. My aim is to make sure students at this school recognise how capable they are and that it's okay to get things wrong.
Hi, my name is Phoebe and I am one of the new Deputy Head students for this year. I love Boroughbridge High School and wanted the opportunity to help the school community as much as possible. During my time as Deputy Head Student, I hope to support and represent all students, making our school as good as I know it can be and a place where all students can feel that they are listened to and their ideas are taken on board. Personally, I would like to make sure that this year I can encourage and support the music and drama departments at Boroughbridge particularly, as I have been a part of them for many years and I consider them to be invaluable to our school, as well as implementing as many of the wonderful ideas that I know students from across the school to have.
We'll look forward to updating you on their progress.