What a week! With School Council Fundraising Week at the fore, it's been a great way to end the Spring Term. There have been many activities to keep us busy including 7SF asking us to guess the number of sweets in a jar, 8LJ car washing (in the rain!), 7BB running a 'Can you find the Creme Egg?' cup game, where lucky participants could win the chocolate treat by choosing the correct cup, 8NC having a penalty shoot-out, 9JF running a lolly tombola bringing in 50 prizes to win, 9WS running a tuck shop, Year 10 having a Bake Sale, 11CW selling hot drinks with marshmallows and cream and 11PK running a raffle bringing in prizes ranging from chocolate bars and Easter eggs to bath bombs and hand creams! Meanwhile, 9BG have lived up to their Geography form tutor's expectations and created a scavenger hunt for all students in the school to engage in. There have been lots of enthusiastic students using their excellent knowledge of the BHS environment to complete the quiz! Perhaps the update you've been waiting for is the amount of money raised by 8SW to determine just what lengths Mr Woodward would have to go to. Well, they managed to raise an impressive £125.09, bringing a multitude of smiles to both students and staff, giving Mr Woodward an excellent makeover, as you can see!

The School Council will decide how the money raised (£464.77) will be spent in school to improve the environment.
We've finished the week with a Non-Uniform Day, raising £240 to continue to restore our Wildlife area.
Tuesday was one of the most exciting days in the Year 7 curriculum – the Rocket Car Challenge! In Year 7 Science lessons last week, students had been investigating speed. Armed with this knowledge, they designed their cars in teams of three. Their morning was spent cutting, sculpting and gluing until their cars were complete. In the afternoon, they all made their way to the tennis courts to race their cars. The winning team, Millie, Elliot and Neve, from Dr Lefley's group, created a car that reached close to 100mph. Here's the winning car at the end of the race. It was an excellent day all round!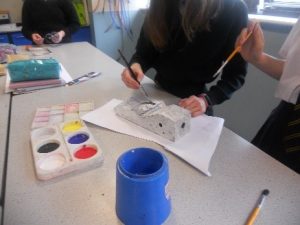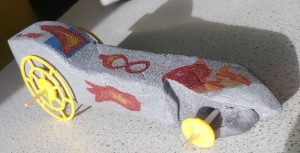 With Earth Day on 22nd April assemblies this week, led by Mrs Bauwens, have focused on the impact of human actions on habitats and species before looking at everyday actions that we can all take to conserve the world's resources such as reusing clothing and taking a shorter shower.
In sporting news, our congratulations go to Thomas Roderickson (Year10) who has been selected to be the goalkeeper for the North Yorkshire County football team. An impressive achievement!
This morning, we were really privileged to have S Sgt Welch in school to talk to Year 7 about his amazing achievement in the Talisker Whisky Atlantic Rowing Challenge, a 3,000 mile rowing race considered to be the 'world's toughest row' from La Gomera in the Canary Islands to English Harbour on Antigua in the Caribbean. His team, Force Atlantic, completed the race in a World Record time of 40 days, 23 hours and 57 minutes. Students heard about the levels of resilience that were needed, hearing a clear message of how thorough preparation, hard work and determination can make the seemingly impossible, possible!
Have a good weekend and best wishes for a lovely Easter break!