Autumn definitely has a magical quality at Boroughbridge High School, as the trees shed their final leaves. With Remembrance Day upon us this is, of course, a very important time of year for our community. Remembrance Day has been the focus of assemblies this week, recognising that in 2021 we are marking 100 years since the nation's collective Remembrance traditions were first brought together. Students were asked to think about the men and women of the First and Second World War generation and to those of today's who have served and sacrificed to defend our nation. At 11am on Thursday 11th, we marked two minutes silence across the school and earlier today some of our Key Stage 3 students virtually attended the Service to Remember from Ripon Cathedral. On Sunday, Year 11 prefects Carli and Izzy will be joining me for the Remembrance Service at the War Memorial in Boroughbridge, before laying a wreath on behalf of our school community.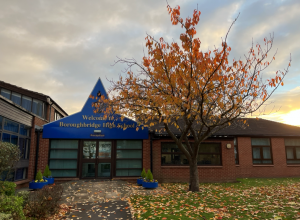 Following the completion of the first half term, rewards points that students have been gaining through their high quality work and contributions have been totalled and a variety of rewards awarded! You may have received a postcard, your child may have received a certificate or they may have been invited to the Rewards Breakfast on Monday. Every day is an opportunity to secure further reward points!
Looking to the week ahead, it's Children in Need on Friday 19th November, so we'll be having a non-uniform day with other activities happening throughout the day. We're asking for a donation of £1 which can be paid through ParentMail but you are welcome to donate more if you wish to.
Have a lovely weekend.