Our Remembrance wreath was laid at the War Memorial by Year 13 students, Harvey and Ewan on Monday morning. With form classes decorating their windows, by the time we all stopped on Wednesday at 11am for the two minutes silence, to pay our respects, the school site was a sea of poppies. Well done to 7SW for their very impressive display.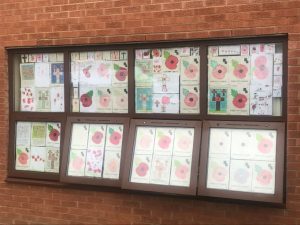 Today has been a Children in Need extravaganza with a non-uniform day and many children participating in a sponsored walk. Following the deluge of rain in the early hours, we were very relieved to see the rain clouds part and a beautiful crisp autumn day appear. Students enthusiastically walked or ran around the field enjoying the fresh air, safe in the knowledge that they were also raising money for a very good cause whilst, at lunchtime, Key Stage 4 students were also involved in a 5 a-side football competition. Thank you for your support. We've raised £1032. Our thanks go to Mr Field for organising this day long event.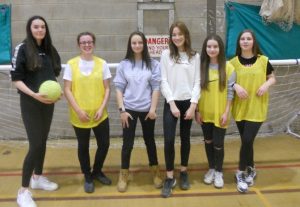 It's been a week of celebration. Your child may have received a certificate congratulating them on having the highest number of positive points available. Today, a large number of certificates and sweet treats have been given to students who, for Attitude to Learning and Behaviour for Learning, achieved good or excellent across all subjects with 30% or more in the 'excellent' category.
Our congratulations go to Heather in Year 11 who, this week, was accepted on to the oversubscribed and very prestigious Cambridge University's Love Languages Masterclasses. C'est superbe!
On the horizon for Year 11 students, and Year 10 for option subjects, are Progress exams which start on Monday 23rd November. These will not only help students to develop their revision skills and exam technique but will also enable teachers to further identify where students have gaps in their knowledge.
You'll have received the ParentMail asking for your feedback about remote learning. The link is here https://www.surveymonkey.co.uk/r/GXMZC3N and will stay live until Monday 30th November. Thanks for the many responses that we've already received.
A reminder that we have a Professional Development day on Wednesday 25th November 2020 when children do not attend school.
Have a lovely weekend.