As the trees shed their final leaves and students returned from their half term break, thinking of others has been at the fore this week. This a very important time of year for our community and so we are finding ways, despite current challenges, to mark Remembrance Day taking on the British Legion's theme for 2020 to pay tribute to the men and women of the Second World War generation and to those of today's who have served and sacrificed to defend our nation. Whilst we are unable to attend a Remembrance Service this year, we will be laying a wreath at the war memorial in Boroughbridge in preparation for Wednesday. We will also be marking two minutes silence across school at 11am on 11th November. Each form group has been making their own poppies to decorate classroom windows and, in Key Stage 3 Art lessons, students have been developing their own take on the poppy symbol as you can see.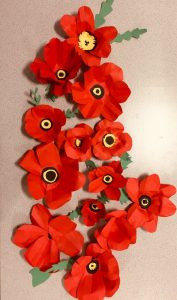 Looking ahead to Children in Need on Friday 13th November, we'll be having a non-uniform day. The Head students will be running a virtual Children-in-Need themed bake-off competition. Further details were in the letter sent earlier in the week. Making the most of our outside space to keep fit and fundraise, students will have the opportunity to take part in a sponsored walk with their bubble and Key Stage 4 students can also compete in an inter-form, 5 a-side competition. All donations this year will be collected through ParentMail (click on Payments then Shop).
Mrs Godsell-Wright has been analysing the rewards points that students have been accruing through their high-quality work and contributions over the last few weeks and next week she'll be awarding prizes and certificates to recognise this. We're very grateful to Morrisons for donating a massive amount of prizes and we'd like to thank them also for providing school lunches over half term for those eligible for Free School Meals.
Thanks for your support with face coverings. Students arrived on Thursday fully equipped and, already, wearing face coverings in communal areas has become part of our routine.
So the meaning of the latin phrase, 'Non sibi sed aliis'? Quite simply, 'not for ourselves but for others'.
Have a lovely weekend.