The week began well with the excellent performance of the BTEC Performing Arts students who, on Monday evening, performed extracts from the play DNA by Dennis Kelly to showcase their work in the theatrical style of Naturalism. The play explored the lives of a group of young teenagers, and how they worked together to cover their tracks following a terrible accident; and the emotional rollercoaster as they dealt with the consequences of their actions.
The students worked tirelessly to pull together a truly dramatic and emotional performance! The performance of the play was attended by staff members and parents of the students, and was very well received by the audience. There were gasps at the twists and turns, and you could have heard a pin drop at the most tense and dramatic moments!  The students enjoyed tremendous feedback from the audience, with comments like "It was so professional", "What a talented group of students" and "This was the best thing I've seen in a long time". When the play was performed to a group of Key Stage 3 students, they were thrilled by the performance and many left saying they felt inspired to choose Drama at KS4 and follow in their footsteps.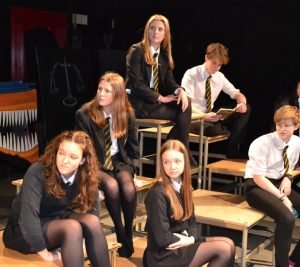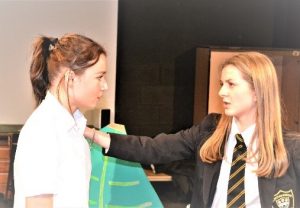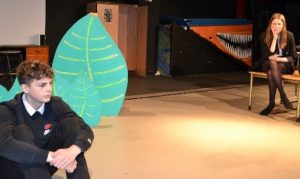 Mr West, their Drama teacher said "I am immensely proud of what the students have achieved, they richly deserve all the positive reactions that came as result of the performance. It was so wonderful for them to finally be able to perform a play, something we have not been able to do since the start of the pandemic. It really brings home the importance of the arts and the magic of the theatre".
Assemblies this week have covered a variety of topics. Mr Grierson explored the importance of revision with Year 10 whilst in Year 11 assembly, Mrs Godsell-Wright impressed upon students the importance of keeping fully focused in the weeks ahead as they move towards their next exam season before sharing the exciting news we're already planning their post-exam Prom, the first in three years! Looking further ahead, Mrs Godsell-Wright talked about Apprenticeship opportunities and some Year 11 students have had careers interviews with our new Careers adviser, Mrs Morgan. Years 7, 8 and 9 were all challenged by Mrs. Godsell-Wright to think about the responsibility of being a Young Carer and how and where Young Carers can get support.
Impressing in lessons have been Miss Whiles' Year 8s who have been using contemporary sources of A-Level and University standard to draw conclusions about British empirical rule in India, producing some really sophisticated and considered conclusions. Meanwhile, Mr Cockerill reports that Year 9 students have been writing poetry about 9/11 this week in English with many being very thought provoking and well crafted.
It's Year 7 Parents' Evening next Wednesday which will be online. The appointment system is live and, as usual, we'll be sending out a follow up questionnaire. We'd really appreciate your responses as these form an important part of our self-evaluation.
Have a lovely weekend!