'Children's Mental Health Week' has been the focus of Mrs Godsell-Wright's assemblies this week. The theme for this year 'Growing Together' is to encourage children and young people to consider how they have grown (both physically and emotionally) and how they can help others to grow. In particular, Mrs Godsell-Wright talked about how the brain grows and develops during adolescence with the thought that we have the opportunity to grow and develop in whatever direction we choose.
In Year 7 English this week Mrs Macadam reports,
'As part of our travel writing scheme I set the students a voluntary task of researching recipes from the country they are blogging about.  Some students brought their recreations in today. We taste tested Sushi using authentic chopsticks (Rowan) and Bethanie and her Dad made 30 lemon posset with a side of Italian butter shortbread.'
Students demonstrated great creativity and I can confirm that they were delicious!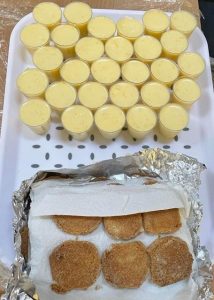 Meanwhile, in Science, Year 7 were dissecting daffodils and, in the words of Mr Errington, 'were doing a great job'.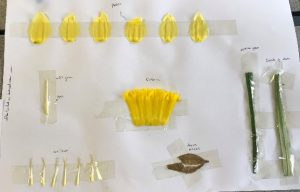 On Wednesday, some of our Year 11 students went across to King James's School for their Sixth Form Taster Day where they met staff, fellow students, had taster lessons and experienced Sixth Form life.
Year 7 Parents' Evening took place on Wednesday afternoon. We've been incredibly impressed with the progress that Year 7 have made and it was great for parents and teachers to have high quality conversations. We'd be grateful if you could complete the questionnaire that's been e-mailed out so that we can gather your views on all aspects of school life.
Year 9 have an important week ahead as they carry out their Year 9 exams. They'll be doing these under exam conditions as, just over a year from now, they'll be sitting exams for two of their option subjects as part of our Key Stage 4 Stage not Age curriculum.
Malcolm Dawson (Chair of Governors), Brian Horner (governor) and I were delighted to meet with Town Council representatives, Mayor Pat Taylor and Councillors John Goss and Sean Hynes on Thursday. Amongst a range of topics, we discussed the temporary suspension of Sixth Form provision and our recent Ofsted inspection. We're really looking forward to working together more closely for the benefit of our community.
And, of course, our Ofsted report was published this week confirming that students at Boroughbridge High School are safe, happy and successful.
With one week to go to the half term break, have a lovely weekend!