The power of trees was the focus of assemblies this week with Mr. Woodward animatedly explaining to all year groups, in turn, the impact of climate change and where we, as a country, sit within those who have a good environmental record. Developing the theme that we can all make a difference, he then asked for volunteers to help to plant trees that he's secured from The Woodland Trust as part of their 'Plant trees with your school' campaign. Needless to say, there were many volunteers so we'll look forward to seeing the site becoming even greener in the weeks, months and years ahead.
Thinking of others has been at the fore today with our non-uniform day to raise funds for Children in Need. With their usual enthusiasm, our students have been 'spotacular', some taking the opportunity to come to school with Pudsey ears or dressed as a banana or Batman. We've also had a range of other fundraising activities including a bake sale and selling fidget rings. Mrs. Mannion and her student team have been making these over in S6 at lunchtime, preparing well in advance for this day. Thank you for your generous contributions. We'll let you know the total raised next week.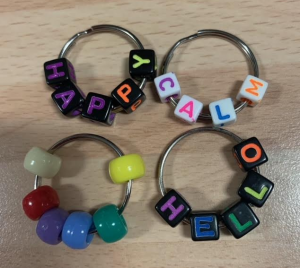 It's Anti-Bullying week so, with that in mind, the NHS Wellbeing in Mind team have prepared some resources for parents and carers which you'll find by clicking this link NHS Wellbeing in Mind. Students also had the opportunity to speak with the team in the Dining Hall on Thursday.
The Catering Team were visited by an Environmental Health Officer this week who, we're delighted to say, confirmed that we continue to have 5-star status for Food Hygiene and Quality. Our congratulations go to Mrs. Chittock and her team.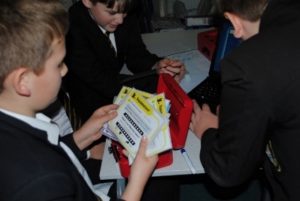 Year 8 students were using their powers of deduction last week when, in ICT, they were visited by PC Dan Fawkes who ran escape room activities. Mrs. Knock reports, 'The students had to find clues to work out passwords and complete challenges. Through these activities they were learning the importance of strong passwords. They've loved it and asked if we can do this every lesson!'
We've now had both Year 10 and Year 11 Parent/Carer evenings with students in those years working hard as they approach their Progress exams which start on Thursday.
If you're interested in supporting the school with fundraising, our first meeting for parents and carers is on Monday 20th November at 6p.m. We look forward to seeing you there.
A reminder that we have one of our Professional Development Days on Wednesday 29th November when students do not attend school.
Have a lovely weekend!