Headteacher's Blog – 4th November 2022
So, we've had a busy week following our half term break. Assemblies this week have been a great opportunity to celebrate the positive contributions that students made during the first half term with the top 20 reward point winning students being announced. You'll have received a congratulations letter if your child is one of them. Students can continue to collect points which will lead to bigger rewards later in the year.
Winning forms were 7MG, 8SF, 9DR, 10BW and 11JW so, as you can imagine, the competition is now on for the top spot by Christmas.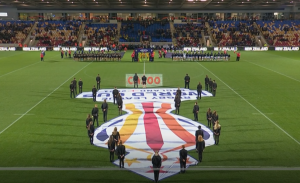 Our excitement on Wednesday was a trip for 47 students and 4 staff to the LNER Community Stadium in York not only to watch two International Rugby League matches as part of the Rugby League World Cup but also, as you can see, to act as flag bearers whilst the national anthems were played. It was a great privilege to do this and students and staff also had a fabulous time watching the two matches; New Zealand Women v France Women and Australia Women v Cook Islands Women.
We're ready to restart the Duke of Edinburgh Award at BHS. Mrs. Murphy spoke to students in Years 9 and 10 about the opportunities that this can bring and how they can get involved. There will be an Information Evening for interested parents and carers at school on Wednesday 9th November at 6p.m.
We had Year 10 online Parents' Evening on Thursday and next Thursday, it's the turn of Year 11. Both of these year groups received information this week about their Progress Exams which start in a few weeks' time.
As you're aware, we've been working with the Wellbeing in Mind Team for over a year now. Overleaf you'll find out more information about how we're working together to support our young people.
Have a lovely weekend!