Headteacher's Blog – 9th December 2022
We've had a very tuneful week with not one, not two, but three musical experiences beginning with an Opera North workshop for Year 7 on Monday morning. This is the second time that Opera North have visited Boroughbridge High School and worked with our students. This time students were invited to identify the different groups of instruments within a performance before exploring how to tell a story through music. Tristan was then chosen to conduct aspects of Grieg's 'In the Hall of the Mountain King' before we listened to the finale which was a full performance followed by spontaneous applause. It was a great experience for all and we were also pleased to be able to welcome students from Cundall Manor to share the experience with us.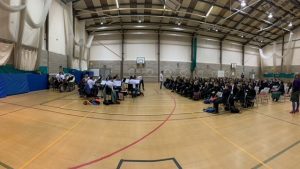 On Tuesday we had our Christmas Live Lounge. It was lovely to have so many performers and their families in school and we had a great evening listening to solos, ensembles and the choir covering an eclectic mix of music from 'Walking in the Air' to Nirvana. To complement there was the usual festive quiz with the evening finishing with a rendition of The Twelve Days of Christmas. Thanks for your support at this event.
Boroughbridge was at its festive best on Wednesday for the late night Christmas shopping event and it was a great privilege for our Year 7 choir to sing festive songs, around the Christmas tree, for the audience and passing families to hear.
The Dining Hall was filled with the sound of Christmas songs and the pulling of crackers on Thursday lunchtime as Christmas Dinner was served. Our thanks go to the Catering Team who served up hundreds of dinners appreciated by all. The party hats were also a great hit with an occasional one making it through to the end of the school day!
Year 11 have been considering their wellbeing this afternoon as they've engaged in a wide range of activities from Bush Crafts with Mr. Woodward, to reading with Mrs. Wellock, Wellbeing strategies with Mr. Lough, Christmas Wreath making with Mrs. Flowers and Boxing with an external coach. It was an excellent afternoon and will have given students both a positive experience and longer term strategies to sustain them in the months ahead.
Thank you for the responses that we've received so far to the Parent/Carer Feedback Survey. Your feedback is much appreciated and will help us to both capture the progress that we've made and inform future actions. The survey will close at midday on Thursday 15th December 2022.
A reminder that we finish at 1.30p.m. next Friday for the Christmas break. It's also Christmas Jumper (non-uniform) day. We return on Tuesday 3rd January. Key Stage 3 timetables will have some changes when we return. Your child will receive their new timetable next week.
If football is your thing, then enjoy the match on Saturday and if the England team do as well as our Year10/11 team against Rossett on Monday then they'll have a 4-1 victory!
Have a lovely weekend!