Headteacher's Blog – 16th December 2022
It was a lovely frosty morning on Wednesday when Year 7 and their teachers set off to St. James' Church in Boroughbridge for our carol service. We were warmly welcomed by the Revd Karen Gardiner and together we enjoyed singing carols and listening to musical performances and readings. Year 7 were superb throughout.
Staying with Year 7, Mr. Cockerill reports that 'Year Sevens have taken part in a creative writing competition organised by the English Department in response to reading a selection of short stories from the Iridescent Adolescent anthology, published by the English and Media Centre. The quality of work submitted was of a very high standard. Winning students received a certificate, a writing journal and some chocolate. Some students submitted book cover designs too, for which there was a separate prize. Because of its success and popularity, we're planning to run another competition again next term on the theme of a 'journey'.'
Here are some of the competition winners receiving their certificates,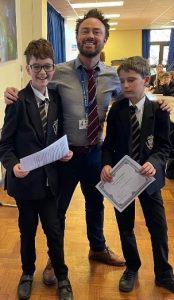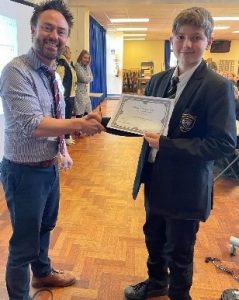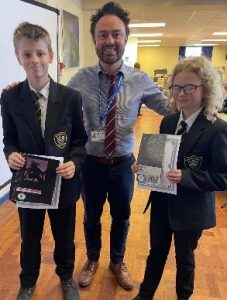 The Readathon has also been completed with students taking the opportunity to read whilst raising £75 for charity.
Wondering whether it was colder inside or outside the group of students visiting Xscape on Wednesday evening had a great time having skiing lessons on the slopes as you can see.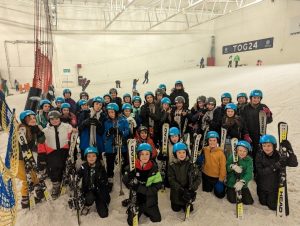 We were delighted to be able to welcome last year's Year 11 and Year 13, along with dignitaries from the local community to Awards Evening last night. Along with students receiving rewards and their exam certificates, it was a fantastic opportunity to find out how our students are getting on and they also enjoyed meeting up with each other and sharing their experiences of post-16 life.
We've carried on with the celebrations today with Christmas jumper non-uniform day where we've been raising money for Save the Children. We also had for the first time in three years, our whole school Christmas assembly. Students celebrated their year at Boroughbridge High School, were presented with rewards certificates, awards and prizes and discovered that the winners of the Christmas Door competition were 10BW.  We then finished with a very enthusiastic version of 'All I want for Christmas is you'.
We say farewell to Miss Whiles, Mr. Cooper and Mrs. Rumbold today and thank them for the massive contribution that they've made to the Boroughbridge High School community. We wish them well for the future.
So with the festive season firmly upon us, I'd like to thank you for your support throughout 2022. I hope that you and your family have a peaceful and restful Christmas break and we'll look forward to welcoming students back to school on Tuesday 3rd January.