Whilst I was finishing the Blog yesterday evening, the very sad news that Queen Elizabeth II had died was announced. Our thoughts are with the Royal Family as we begin this period of national mourning. To pay our respects, flowers were laid at Balmoral this morning on behalf of the Boroughbridge High School community.
We've had an excellent start to the Autumn Term with all students returning to school on Tuesday. We welcomed our new Year 7 students who are settling in really quickly and getting fully engaged in the demands of life at secondary school. So, let's see what they've been doing.
In RE Year 7 students have jumped in at the deep end with a study of Nietzsche's idea that "God is Dead" which will form the basis of a unit on philosophical arguments for and against God's existence.
The History department has been very impressed with the start they've made by diving straight into creating timelines of early settlers to Britain, defining raiders and traders and decided which groups fit these definitions and why there were differing needs for different approaches to conquering new lands. Miss Whiles says that 'Students have approached this with maturity and worked well in pairs to draw some sophisticated conclusions.'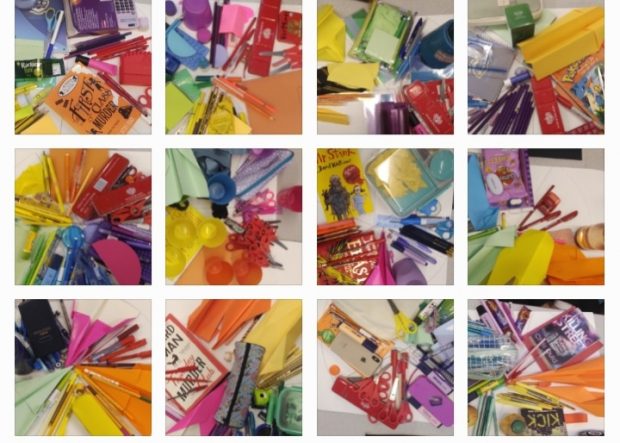 In Geography students have been studying the difference between human and physical geographical features of the UK. Mrs. Bauwens says 'They have been very enthusiastic in learning how to use an Atlas to find places on a map – some of them are very quick'.
In Science, they have been learning about the properties of solids, liquid and gases and in Art, students have been learning about Colour Theory and creating, as you can see, interesting 3-D colour wheels, working together in small groups.
In English, Mr. Cockerill says, 'I've seen some brilliant creative writing inspired by Philip Pullman's book Clockwork. A brilliant start!'
Form Tutors have also had a good week getting to know their new form class. Mrs. Knock says '7PK have started to get to know each other through some form-time activities and they have already been asked to consider ideas for the Christmas door competition. Only half the class got lost on the first day which I think is good going!'
Mrs. Hunter says, '7CH have impressed me with how well they seem to be getting along with each other and looking out for one another' and Mr. Cockerill says, 'It has been great to welcome the students and to see how enthusiastic and well prepared they have been this week.'
Mrs. MacAdam and Mrs. Gomersal are impressed with their form (7MG) and have enjoyed reading the feedback which students have given then about their first week. You won't be surprised to hear that new lessons and lunchtimes feature as being favourite aspects of Boroughbridge High School!
Mr Scott says that 7AS are settling in well and quickly getting used to all of the new information and new routines.
In assemblies this week, I've been welcoming students back to the new term and sharing the successes of the exam results in the Summer before focusing on school standards to ensure that everyone in our school community is safe, happy and successful.
We've also welcomed new staff to the school. Mrs. Hirst has joined the pastoral team as Pastoral Manager for Year 8. Mrs. Clark has joined the Admin Team, Mr. Cook has joined the Learning Support Team and Mr. Roche and Mrs. Murphy have joined the Maths Team.
I'm looking forward to seeing you at the Expectations Evenings for Parents and Carers of students in Years 8 to 11 next week. If you haven't yet had time to confirm your attendance then please e-mail schooladmin@boroughbridgehigh.com
Take care.