Headteacher's Blog – 7th October 2022
One of our missions this year is to ensure that our curriculum is fully enriched now that we no longer have any restrictions and, in the first five weeks, we've certainly done that!
GCSE Geographers have been to the Holderness Coast, students across the year groups have been to the Urban Bike Park in Leeds, Year 8 have been on their Humanities trip to Helmsley Castle and Rievaulx Abbey. Yesterday BTEC Travel and Tourism students went to explore Alton Towers as a tourist attraction and, next week, Year 7 Geographers will be going into Boroughbridge to explore the hypothesis 'The function of Boroughbridge is a resort town.' They'll be carrying out land use surveys, environmental quality surveys and traffic counts to draw their conclusions. Highlights later in the academic year include a Year 9 trip to Bewerley Park and a Year 7 visit to Normandy.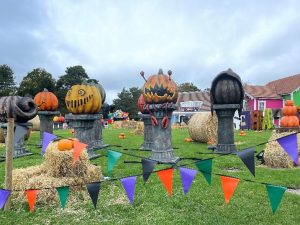 Sports fixtures have begun in earnest with Year 8 boys football at Malton School and Year 7 and 8 girls football against Rossett School at Boroughbridge. The Netball teams have also made an impressive start with two wins for our Year 7 and Year 10 team.
Black History Month has been the focus of assemblies this week with History lessons in the coming weeks exploring this important area further.
This week saw the appointment of our new Key Stage 4 Prefects who proudly accepted their badges, marking their new role. This is such an important student leadership role in our school community and we look forward to working with them during the year and watching them develop their leadership skills. They will begin by helping our younger students welcome Year 5 and 6 children and their parents for our Open Evening. And so, a reminder that next Wednesday (12th) is our Year 5 and 6 Open Evening. In order to prepare for the event, we'll be closing school at 1.30p.m. and will look forward to welcoming our students back into school to take part in Open Evening.
Have a lovely weekend!