Headteacher's Blog – 14th October 2022
Wednesday evening was one of the highlights of the school year as we welcomed Year 5 and 6 students and their parents and carers to our Open Evening. During the presentation in the Hall, Year 7 students, Eva, Michael, Olivia and Tristan confidently spoke to the large audience about their positive experiences of joining Boroughbridge High School. Having heard the vision of the school, and the underpinning values, visitors were then able to see for themselves how this translates into reality by touring each department. They also met over 100 student volunteers, who were leading activities across the subject areas and answering questions about our school. Activities included a Maths Trail around school, joining the English Team at 'Darkwood Manor' for some creative writing inspiration, watching a rehearsal by the Key Stage 3 Drama Club and seeing our Musicians in session. In Computing students could discover what was inside a computer and in Chemistry and Physics bubbles were being ignited whilst in Biology, hearts were being dissected. Sports Leaders led challenges in the Sports Hall. Following a food theme, Halloween breads were being made and sampled in Food Technology whilst French delicacies could be requested at Le Café de Boroughbridge with Modern Foreign Languages. There was also the opportunity to sample some of the school menu! In RE philosophical questions were being asked, map skills developed in Geography and an in-depth exploration of sources used in History. Artists at work could be observed and colourful plastic creations made in DT. All in all, it was an incredibly energetic evening and it was great to be able to welcome new families along with those who have or have had older children in the school. We'll look forward to welcoming Year 6 back into school for our three Induction Days in July!
Earlier in the week our Year 7 Geographers had an excellent time visiting Boroughbridge to investigate the hypothesis, 'Boroughbridge is a resort'. With clipboards at the ready, students completed traffic counts, pedestrian counts, a land use map and field sketches. They're now presenting and analysing their data in lessons before they draw their conclusions.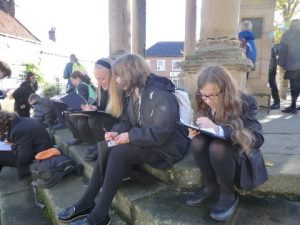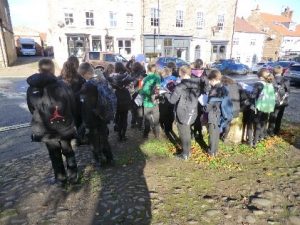 We're really impressed with the way in which Year 7 have settled into the Boroughbridge High School community and parents and carers will have the opportunity to meet with their child's Form Tutor on Monday to discuss how they're getting on. If you haven't yet signed up for an appointment then please check Parent Mail for your log-in instructions.
Assemblies this week have focused on our first Progress Review Point where students and parents and carers will receive data about progress, attitude to learning, behaviour for learning and homework. Mrs. Bloomfield talked about how important it is to work hard every day in order to secure success.
We welcomed PCSO Phil Wright into school on Thursday to talk to students in Years 8 to 11 about exploitation risks in our locality including cyber bullying and vaping with a focus on ensuring that our students know how to keep themselves and others safe. It's great for our students to hear from someone who is working so closely within our community and the areas identified are followed up in our PSHCE curriculum.
With the fact that over 30,000 people suffer a cardiac arrest out of hospital in the UK every year, today, all of Years 8 and 9 have been involved in Restart a Heart day where they've learnt CPR, a simple life saving technique given to someone in cardiac arrest. It aims to take over the job of the heart and lungs by keeping blood and oxygen flowing through the body. The aim is to teach CPR to 30,000 students and it's great to know that 175 of these are Boroughbridge High School students. We were delighted to welcome our local MP, Andrew Jones, to see the team and our students in action.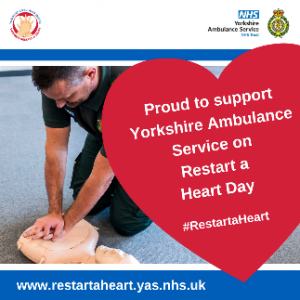 Have a lovely weekend!