So, it's been 'Happy New School Year' at Boroughbridge High School this week with students beginning their new timetables, new classes and new subjects for some. This is already ensuring a high level of focus as we move towards the end of the Summer Term.
Students taking on their new GCSE/BTEC subjects are laying the foundations for a productive year ahead. In History, students have begun with medicine over time, looking first at how beliefs and treatments of disease changed over time before assessing in detail the credibility of the Theory of the Four Humours and Theory of Opposites by Hippocrates and Galen. Students concluded that there is still some merit to these Ancient theories as it is indeed true that something cold is needed to bring down a high temperature.
In DT, students have chosen their Non-Examined Assessment task themes and analysed existing products and in FT, chopping skills have been refined along with tasting protein alternatives. In GCSE Business students have started the course by looking at why businesses are started and the character traits of entrepreneurs whilst in Computer Science, students began their programming journey in Python looking at variables, inputs and data types. Taking a learning risk in Religious Studies, students have jumped in at the deep end, learning Punjabi terminology to describe the Sikh God, Waheguru, before then analysing and evaluating the logical consistency of the claims Sikhs make about this difficult to comprehend being.
In BTEC Travel and Tourism, students were shown to their seats with a Boarding Pass before exploring travel organisations and tour operators. In GCSE French, Mrs. Bailie, says that 'students have made an enthusiastic start to the course, practising speaking, listening and reading skills as well as reviewing some key grammar points, all in the context of the first topic 'Family and Relationships'. Over in Health and Social Care, students started to look at the growth and development over the Life Stages. Drawing skills were being developed in Art with Mrs. Hunter commenting on the 'great, can do attitudes of the class.'
In assemblies this week, new Year 11 heard from Mrs. Morgan, our careers adviser, who updated them on their choices ahead as well as telling them about their Careers Morning next week when they'll be meeting employers. Other year groups heard about healthy lifestyles and the positive impact that a good diet can have on performance.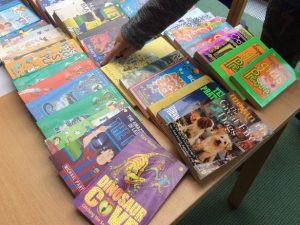 Today we've had a non-uniform day raising money for in school projects and, at lunchtime, the 'Big Book Swap' event took place with students and staff purchasing second hand books either with cash or tokens if they were able to donate books of their own!
Things to look forward to next week include the 'Monster Kick About' where students will be able to take part in football activities during lunchtime. The challenges will be as follows,
Wednesday – 'Tekkers' Challenge – a timed football freestyle showcase where students will be trying to impress the judges with their skills.
Thursday – Crossbar Challenge – Can students hit the crossbar from set distances?  and
Friday – Penalty 'Top Bins' Challenge – How accurate are students with their penalties?  Can they get the ball into the 'top bins' / top corner target?
There will be a small entry fee for students to take part in the challenges, £1 per event or £2 for all three challenges.  Money will be equally divided between a charity chosen by Boroughbridge High School Sports leaders and school sports equipment for students to use during lunchtimes.  There will also be prizes for the best boy and girl in each year group that takes part in the challenges.
We're also really excited to be welcoming our new Year 7 students and their families with a Parent Information Evening on Monday before Induction Days from Wednesday 6th to Friday 8th July.
Have a lovely weekend!