Careers provision at Boroughbridge High School is linked to the Gatsby Benchmarks for good practice and the Career Development Framework (CDI – Career Development Institute).
The Gatsby Benchmarks are:
a stable career programme
learning from career and labour market information
addressing the needs of each pupil
linking curriculum learning to careers
encounters with employers and employees
experiences of workplaces
encounters with further and higher education
personal guidance
There is CPD and support for staff with understanding what Careers Education and Guidance is and how they can support students and parents.  There is also support for staff re understanding LMI (Labour Market Information) and what their careers role is within their curriculum subjects and pastorally.  We work hard to allow staff to have employer encounters as well as the students.
The Career Development Framework
The CDI's Career Development Framework describes the six career development skills that people need to have positive careers.
These six skills are the learning areas that career development programmes and interventions should focus on. When you are supporting someone with their career you should ask yourself, how can I help them to grow throughout life, explore possibilities, manage career, create opportunities, balance life and work and see the big picture. Each career development activity might develop a different skill, but ultimately individuals need to engage with all of these learning areas.
Grow throughout life – by learning and reflecting on yourself, your background, and your strengths
Explore Possibilities – Explore the full range of possibilities open to you and learn about recruitment processes and the culture of different workplaces.
Manage Career – Manage your career actively, make the most of opportunities and learn from setbacks.
Create Opportunities – Create Opportunities and learn from setbacks
Balance Life and work – Balance your life as a worker and/or entrepreneur with your wellbeing, other interests and your involvement with your family and community
See the big picture – See the big picture by paying attention to how the economy, politics and society connect with your own life and career.

Teachers will find the school virtual Careers website useful (eCLIPS).   Supporting students and in looking at subject specific information re careers and up to date lmi to assist with lesson planning or signposting of students.
Do you have an idea you want to explore or know what you want?  Do begin to research using the following
eCLIPS – Our Virtual Careers Library https://www.eclips-online.co.uk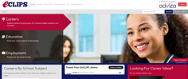 We have chosen eCLIPS as our careers information resource. This easy-to-use online platform will help you make informed decisions for your future. It's written specifically for 11-19s by career professionals and provides:
Accurate information on over 1400 jobs to help your consider the full range of options available to you
Live-streamed labour market information including local vacancies
Information catering for people of all abilities and stages (from school to adulthood)
Careers linked to school/college subjects
Impartial advice to help you choose study and employment options and prepare for the world of work
An interactive career matching tool
Our licence provides unlimited access both at school and at home.  Parents are most welcome to use the resource.
By investing in eCLIPS we are helping to meet four of the eight Gatsby Benchmarks (2, 3, 4 & 7), the Government's chosen standards for high quality careers guidance provision.
How to access the eCLIPS careers library – you will have posters in your form room with the access code.   If you cannot access the website contact our Careers Adviser Mrs Morgan or Mrs Town for the code for the code.  Code will also be sent out in career letters to parents and will be part of students Career Action Plan information.  (Licence conditions prevent us posting the passwords on the website)