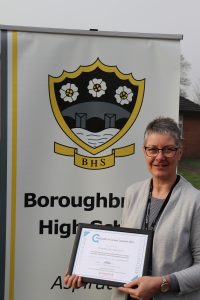 Mission:  To prepare and inspire young people for the fast-changing world of work.
Careers Education, Information Advice and Guidance (CEIAG) is a vital, dynamic and ever-changing part of the curriculum, helping to raise aspirations and motivate students. CEIAG helps ensure you make the choices that will enable you to achieve your full potential.
Boroughbridge High School understands the importance of preparing students for the world beyond school and to achieve this, we are proud to be a member of Regional Careers Hub working with The Careers & Enterprise Company and the Enterprise Adviser Network to ensure the provision we provide for our students is the best quality CEIAG.
The school holds the Quality in Careers Standard recognising the good work we do in this area. We are proud of the work we do to ensure that we meet the Gatsby Benchmarks which are the framework for best practice.
 ​The 8 Gatsby Benchmarks are:
A stable career programme ​
Learning from careers and labour market information ​
Addressing the needs of each student
Linking curriculum learning to careers
Encounters with employers and employees
Experiences of workplaces
Encounters with further and higher education
Personal guidance
We also value the support of our Careers Enterprise Ambassador, Lorraine Kirbitson. Lorraine works for the North Yorkshire Construction Training Group. Her role involves improving business and people development by accessing grants and training. Lorraine is keen to help both staff and students to raise the profile of careers. She regularly visits school and has been involved in our Speed Networking Event and delivering CPD to staff.
We endeavour to create enterprising students, who seek to develop their employability skills through the wide range of opportunities. This is achieved through targeted work with groups who seek to follow similar career pathways. Bespoke programmes could cover Law, Medicine, apprenticeships, Armed forces and many more depending on the interests of students.
Across all Years there is a planned program of careers education which is delivered through PSHCE and enhanced with enrichment events. We run Post-16 and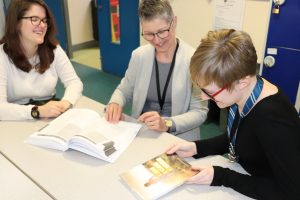 Post-18 provider talks and workshops for all students providing information on the full range of Post-16 and Post-18 options, including apprenticeships, local colleges, vocational courses and Degrees. Students in Year 11 are invited to attend a regional Careers Fair and Skills North East Event to gain further labour market information. This is an excellent opportunity for them to engage with both employers and Further/ Higher Education providers.
Key Stage 4 students have further opportunities to engage with employers through a number of activities. For example, Speed Networking or Mock Interviews. The focus is for students to identify transferable skills, that will be required when applying for employment or higher courses in the future. Students also receive support to create a personal statement and CV. In Year 11 all students attend at least one careers interview with our qualified careers adviser.
In Year 12 students visit and receive talks from a range of Higher education establishments and apprenticeship providers, helping them to be well informed and confident when applying for university or employment. Destinations data shows our students continue on to successful, diverse and enriching careers beyond school.
Throughout the school and across the curriculum students are encouraged to:
Understand themselves better and develop their capabilities.
Acquire the skills necessary for decision making regarding future employment.
Make choices about education, training and career opportunities.
Manage the transition into new roles and situations.
Take on responsibilities and roles that will develop the leadership and employability skills.
Students are encouraged to use the careers section of the School Library and ICT packages to help with research for career paths and courses in further and higher education.
If you would like to discuss careers options or work experience in more detail contact our Careers Leader Mrs Town.  We would be particularly pleased to hear from any parent or family member, who would be interested in coming into school to talk to students about their own business, career path or could help with interview technique.