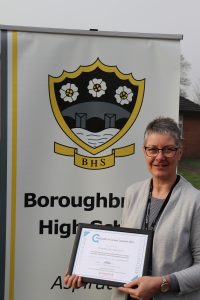 Mission:  To prepare and inspire young people for the fast-changing world of work.
Careers Education, Information Advice and Guidance (CEIAG) is a vital, dynamic and ever changing part of the curriculum, helping to raise aspirations and motivate students. CEIAG helps ensure you make the choices that will enable you to achieve your full potential.
Boroughbridge High School understands the importance of preparing students for the world beyond school and to achieve this, we are proud to work with the Careers & Enterprise Company and the York, North Yorkshire & East Riding Enterprise Partnership.  This facilitated the School to achieve the Careers Award and supported our careers adviser to gain a Level 6 qualification in Career Guidance and Development.  The role of these organisations is to help link the school to employers and to deliver world-class support to students.
We also value the support of our Careers Enterprise Ambassador, Lorraine Kirbitson. Lorraine works for the North Yorkshire Construction Training Group. Her role involves improving business and people development by accessing grants and training. Lorraine is keen to help both staff and students to raise the profile of careers. She regularly visits school and has been involved in our Speed Networking Event in the summer term and delivering a training workshop to staff.
We endeavour to create enterprising students, who seek to develop their employability skills through the wide range of opportunities. This can be achieved through targeted work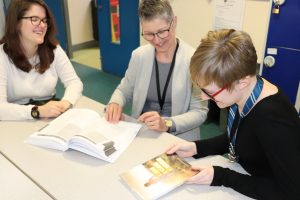 with groups who seek to follow similar career pathways. Bespoke programmes could cover Law, Medicine, apprenticeships, Armed forces and many more depending on the interests of students.
Across all Years there is a planned program of careers education which is delivered through PSHCE and Challenge Days.
There is a particular focus for Year 9 students, which coincides with them considering their GCSE Options. Students are guided as they work with careers information, meet representatives from Higher Education and research employment sectors.
Key Stage 4 students have the opportunity to engage with employers through a number of activities. For example, Speed Networking or Mock Interviews. The focus is for students to identify transferable skills, that will be required when applying for employment or higher courses in the future. Students also receive support to create a personal statement and CV. Students should sign up on this link and use the resources https://yourgameplan.co.uk/for-students/
In Year 11 all students attend at least one careers interview with our careers adviser. Students all attend a regional careers event to allow them access to employers and other education establishments.
In Year 12 all students undertake a 5 day work experience placement to develop their understanding of the world of work. Students visit and receive talks from a range of higher education establishments and apprenticeship providers, helping them to be well informed and confident when applying for university or employment.  They have continual access to advice and guidance from the careers adviser.
Throughout the school and across the curriculum students are encouraged to:
Understand themselves better and develop their capabilities.
Acquire the skills necessary for decision making regarding future employment.
Make choices about education, training and career opportunities.
Manage the transition into new roles and situations.
Take on responsibilities and roles that will develop the leadership and employability skills.
Students are encouraged to use the careers section of the School Library and ICT packages to help with research for career paths and courses in further and higher education.
If you would like to discuss careers options or work experience in more detail contact Mrs Town or Mrs Rainbow at school.  We would be particularly pleased to hear from any parent or family member, who would be interested in coming into school to talk to students about their own business, career path or could help with interview technique.
LOOK to the future – We run a Coding Club
KS3 students have the option to learn additional IT and Tech skills at our Coding Club. Some Yr9 students are taking part in the Cyber Discovery Challenge, a national competition.  We are also offering the opportunity to use some of the coding sites.  The School is helping to inspire the next generation of cyber security experts and grow the UK's cyber capable workforce.
"Students will tackle hundreds of hours' worth of challenges, tasks and games across four phases, designed to nurture their interest in the industry. Covering everything from Linux to programming. Students will gain an insight into the day-to-day activities of a cyber security professional, including an introduction to a wide range of specialisms"